OUR PRODUCTS
PLATENS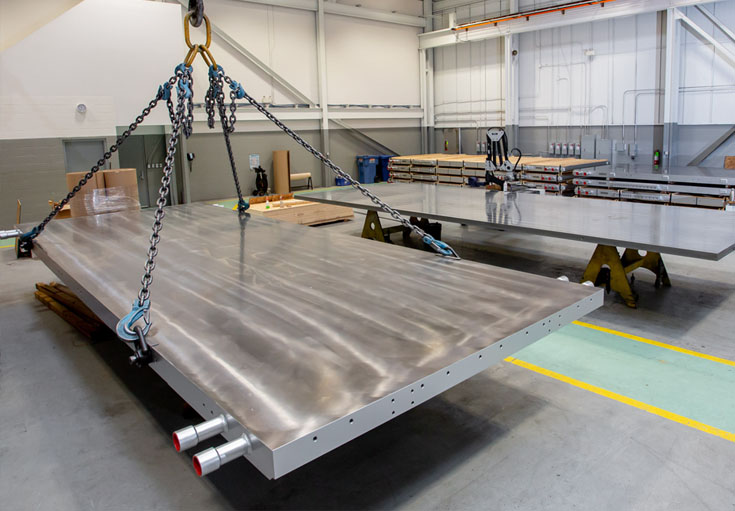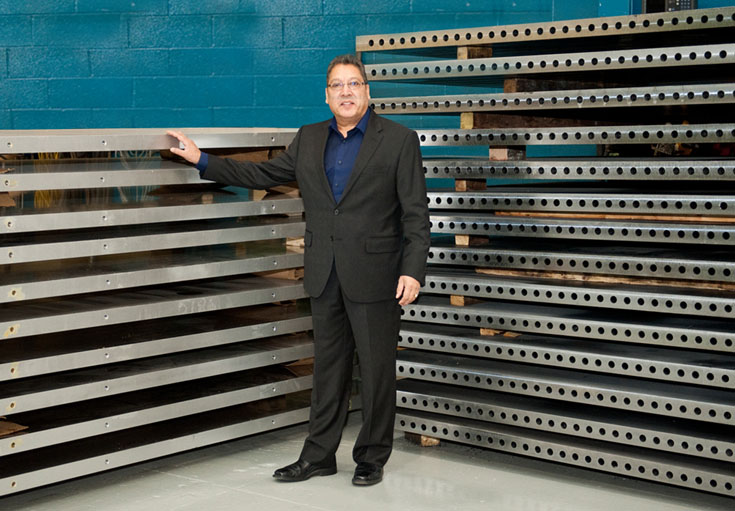 The Sherdil Platen starts with A36 44W North American steel and is machined and tested with the utmost precision for long-lasting quality and durability. For any OEM wood, rubber, or plastic injection press, we can completely machine, gun drill, and weld platens with a parallelism of +/-.002" up to 480" long.
Our precise equipment such as the Cincinnati Planer Mill equipped with Heidenheinn CNC controls allows us to machine with superior accuracy and efficiency. Each platen is certified and pressure tested and each customer receives a copy of the mill and inspection reports with each order.
MACHINING & FABRICATING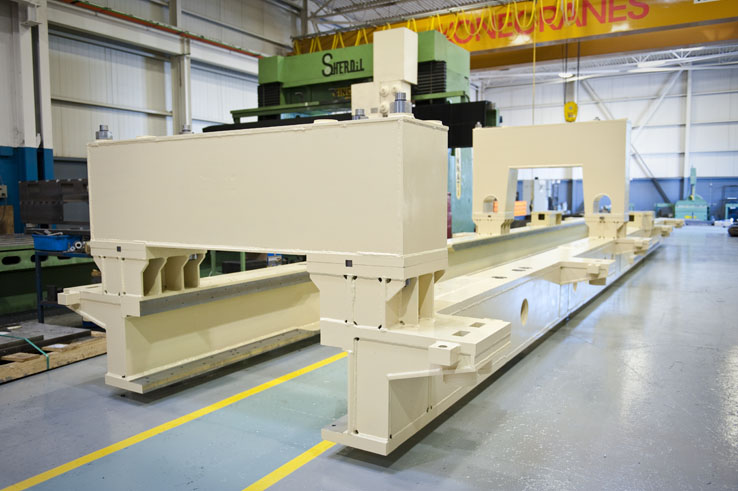 The machining and fabricating capabilities at Sherdil Precision are endless. With top of the line equipment and software, we are able to expertly complete any job within the tolerances requested. Our capacity includes large scale machining, gun drilling, surface grinding, fabricating and welding, vibratory stress relieving, and painting – and thanks to our 40 Ton crane, we can handle any job up to 80,000 lbs.
We excel at complex, dimensional work which includes (but is not limited to) some of the following products:
Platens
Bolster Plates
Die Sets
Bases/Beams
Gates
Military Components
SPECIALTY PRODUCTS
Our innovative team of engineers have the extensive knowledge required to design and build impressive specialty equipment for any industry. Customers come to us with ideas when they're not sure where to turn, and we get to work on bringing their ideas to life. No idea is too outrageous, and we are always up for an exciting challenge.
Our highly skilled service technicians offer both in-house and on-site training and support internationally.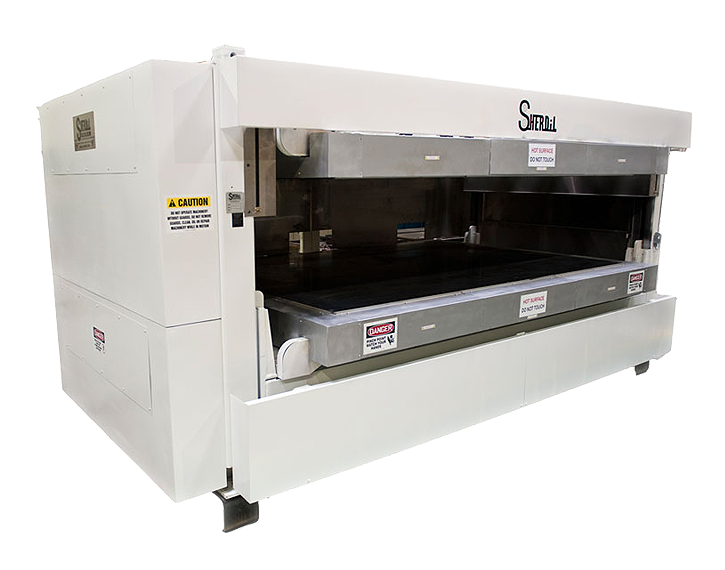 PRE-HEATING OVEN
The Pre-Heating Oven does just that: it pre-heats aluminum sheets to 1000 deg. F in 90 seconds for easy manipulation to automotive forming. Designed for minimum heat loss for energy efficiency, our standard 2m x 4m oven comes with Allen Bradley CompactLogix PLC controls, Allen Bradley HMI Panelview Plus 1000, 16 zone temperature control, a 24" opening, and hydraulic closing. Alternative selections include:
Custom sheet sizes
Specialty platen materials
Higher temperatures
Increased/Decreased opening sizes
Ejector Pins (mechanical or hydraulic actuation)
PRESSES
Sherdil Precision Inc. has always focused on precision, quality, innovation, and customer support. With extensive knowledge on Rubber Press Systems, Sherdil has the product information, engineering, and technology to manufacture superior Injection and Compression Molding Presses built to customer's specifications. Focus is on providing the best production advantages and cost savings to customers.
FIFO 800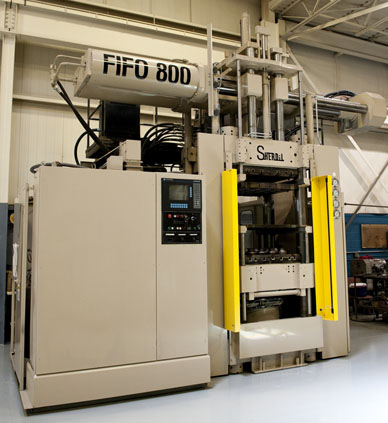 DU500 DOUBLE SHUTTLE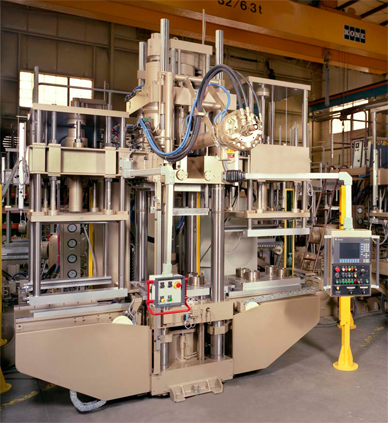 DC300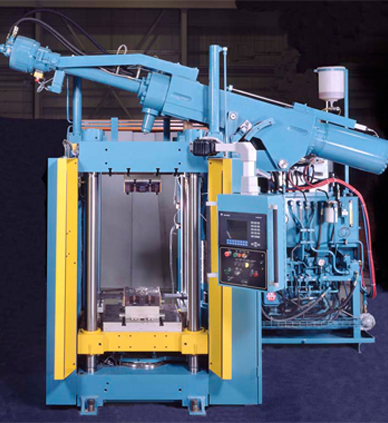 STANDARD PRESS RANGE INCLUDES
• Injection and Compression Presses
• Vertical Injection
• Horizontal Injection
• FIFO Injection
• Hydraulic Clamping
• Hydraulic-Mechanical Clamping
• Clamp Range 90 to 800 US Tons
• Injection Range 0.5L to 10L

CUSTOM PRESS DESIGNS
• 90 to 5000 US Tons
• Injection, Compression and Transfer
• Single or Multiple Openings
• Automated Work Cells

OPTIONAL EQUIPMENT
• Hydraulic Upper Ejectors
• Hydraulic Lower Ejectors
• Mechanical Lower Ejectors
• Partial Sliding Table
• Full Sliding Table
• Sliding Center Plate
• Shuttling Center Plate
• Lower Mold Single Shuttle
• Lower Mold Double Shuttle
• External Knock-Outs
• Parts Handling Systems
• Automation Packages
• Oversize Platens
• Increased Shot Volume
• Vacuum Systems
• Mold Loading and Unloading Systems
• Rear Mold Loading Access
• Silicone and TPE/TPR capabilites
• Strip Break Detection
• Multiple Heat Zone Control
• Mold Heat Zone Control
• Mold Cleaning Systems
• Flexible Footprint Design
• Online Modem Support
• Independent Control Arm

About Us
Sherdil Precision Inc. is a leading global manufacturer in large plate machining, gun drilling, precision surface grinding, and custom design/build specialty equipment. Sherdil has earned a reputation for its diverse machining capabilities, quality tested CNC machined products, and the confidence to take on challenging new projects for a diverse clientele.
Sherdil is known globally for their premier product: platens. Expertly machined and quality tested, Sherdil produces more than 100 platens yearly that ship worldwide. They have created a high standard testing procedure.
In 2018, Sherdil celebrated 25 years in business, a milestone which signifies their success throughout the evolution of the manufacturing industry. In 2019, they completed a 10,000 square foot expansion to increase capabilities and enhance efficiency for large projects. Sherdil is committed to leadership in new technologies and equipment.
As an ISO 9001:2015 certified corporation, Sherdil is committed to quality, innovation, and focusing on rewarding relationships with their customers, suppliers, and workforce.